Main setup for paste pad creation
The Stencil Generator uses all zones defined by the Stencil Area Editor. If there are no zones the outline will be used as main zone.​ Use default rules for your company.​ Setting a package group, enables the Wizard to set the rules regarding it. SOICs, Chips, BGAs and any definition needed. ​The Wizard is delivered we predefined settings.To adjust all data preparation to your product you can setup own data preparation Scripts to adjust to your equipment.
Build in automation support​
Set Package Group is only necessary if your data don't contain a proper information.​ Customers with EPL ("Easylogix Part Library") can resolve trusted data from EPL. ​ The Wizard also process layouts with multiple mask layers in the stack-up.​ Set "Keepouts for Chips" is only available if you have MPN packaged defined. It will handle the usable area for you.​ You also can set plugged drills as free usable area.
Check stencil by using current rules​
Create stencil pin by any drawing​
Rule preview​
Set extra rules for components in defines zones​
Integrated measure system in preview​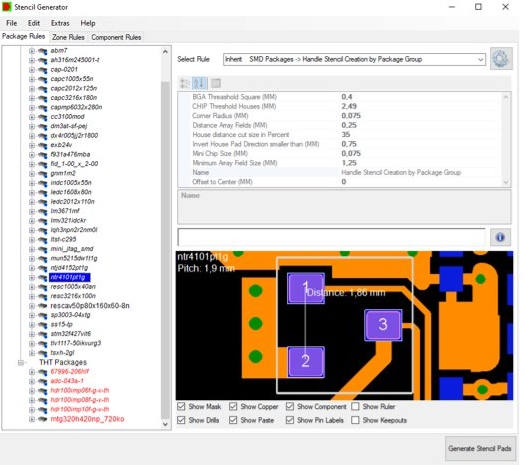 Take existing paste elements​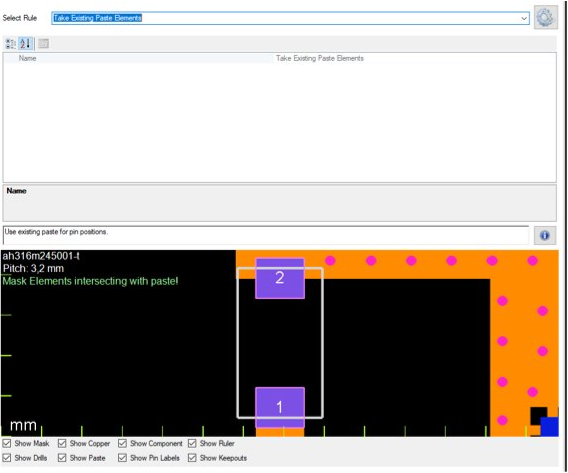 Undersize original pads​
Create donut pads​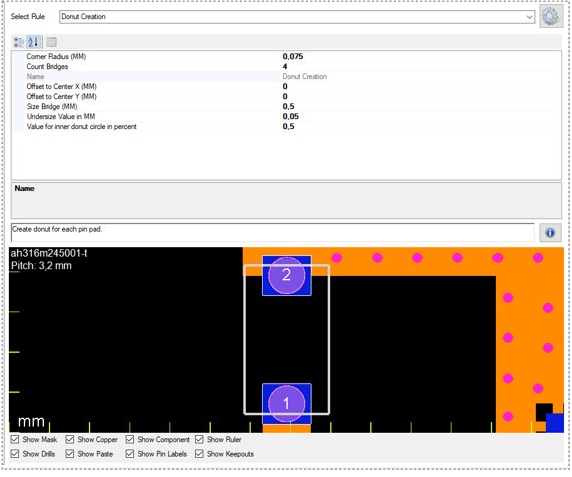 Create house pads​
Handle pad creation by package group​
Predefined package groups
"D_MELF":
"R_MELF":​
"SOP":
"QFN":​
"QFP":​
"DFN":​
"SOT":​
"SOIC":​
"NETWORK":​
"SOD":​
"C_MOLDED":​
"D_MOLDED":​
"RESISTOR":​
"CAPACITOR":​
"TANTAL":​
"DIODE":​
"RESONATOR":​
"INDUCTOR":
>"DPAK": Combinition for cooling pin by array pads and other pins with undersize​
"LED":​
"C_ARRAY":​
"R_ARRAY":
"CONNECTOR_SMT":​
"CONNECTOR_THT":​
"FIDUCIAL_CIRCLE":​
"FIDUCIAL_RECT":​
"FIDUCIAL_CROSS":​
"FIDUCIAL":​
>"LASER":​
"OTHER":​ Undersize rule
"IGNORE":​ Do not set any stencil opening
"DMC":​
"BBS":​
"NOT_PLACED":​
"CAE":​
"COIL":​
"CHP": Using house or inverted house rule​
"L_CHP": Using house or inverted house rule​
"R_CHP":​ Using house or inverted house rule
"C_CHP":​ Using house or inverted house rule
"F_CHP": Using house or inverted house rule​
Array Pads​
Array Pads fixed count​
Use pin intersecting with solder mask​
Change Symbol​
Inserts symbols from job or from library
Inverted house pad​
Add own rules to your stencil automation​
Panel
Send the stencil data in your preferred format to your supplier
Result of the rule-base stencil wizard
Before and after
Stencil pad details