With the help of the "Rule File Manager" different rule sets can be created and managed.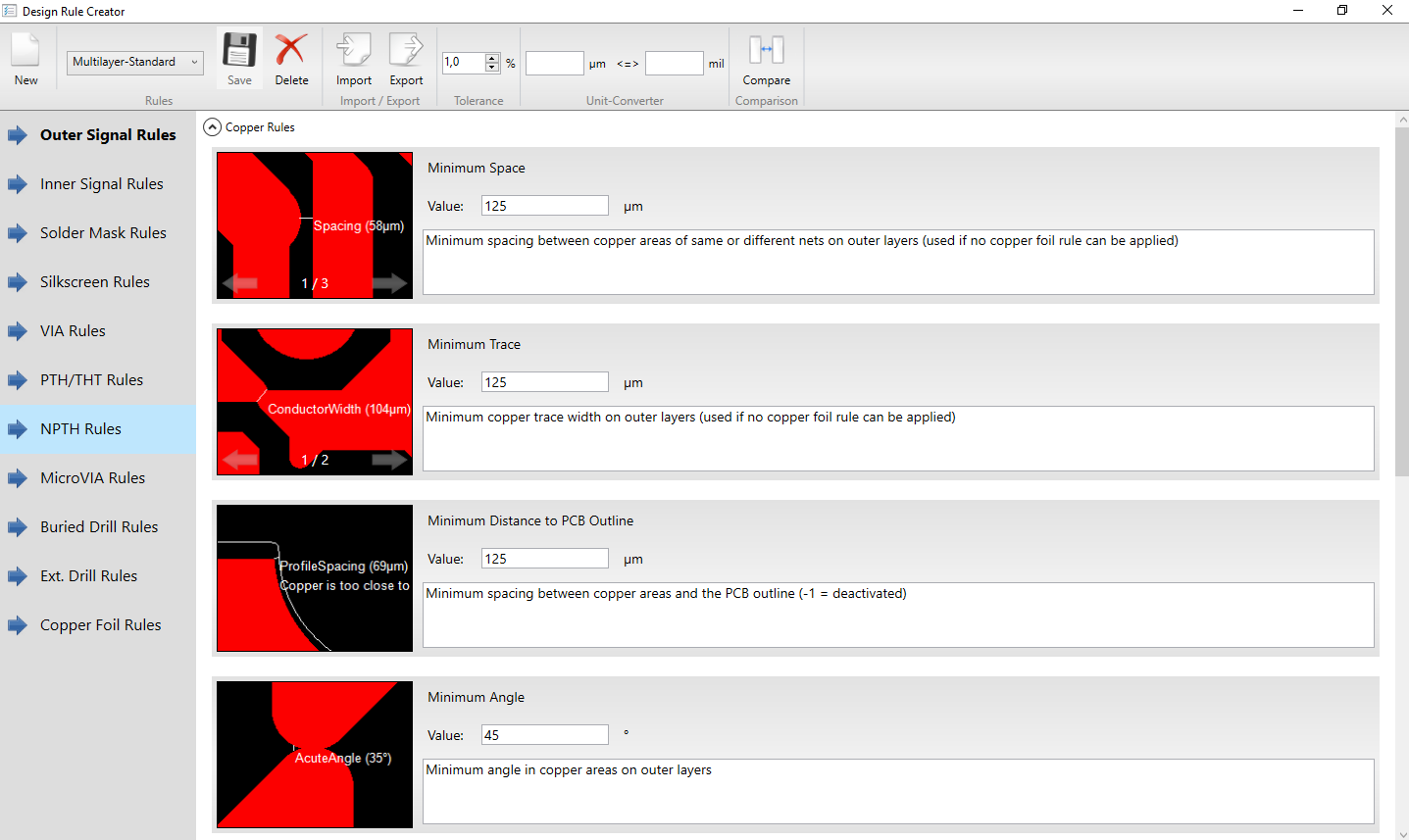 New:
Create a new rule set with a user defined name.
Save:
Save changes in the currently selected rule set.
Delete:
Delete the currently selected rule set.
Import:
Import a new rule set out of a xml file.
Export:
Export the current rule set to a xml file.
Tolerance:
Tolerance for all check values. All check values will be reduced by e.g. 1% to not show false errors (e.g. when checking for 150µm spacing, a distance of 49.9 µm can be ignored in this way).
Unit Converter:
Small tool to convert numbers between µm and mils.
Compare:
Opens a new window where two rules can be compared in a table view.
Single check rules:
Outer Signal Rules


| | |
| --- | --- |
| | Minimum spacing between copper areas of same or different nets on outer layers (used if no copper foil rule can be applied) |

| | |
| --- | --- |
| | Minimum copper trace width on outer layers (used if no copper foil rule can be applied) |

| | |
| --- | --- |
| | Minimum spacing between copper areas and the PCB outline (-1 = deactivated) |

| | |
| --- | --- |
| | Minimum angle in copper areas on outer layers |

| | |
| --- | --- |
| | If active, all SMD pads with soldermask opening and component pin are reported, if they are located completely inside a copper area (no thermal reliefs) |

| | |
| --- | --- |
| | Do not report missing thermal pads, which are located completely under a component body and have a size larger as this value (e.g. cooling pads) |

| | |
| --- | --- |
| | Minimum needed solder mask clearance arround SMD pads (.smd Attribute) |

| | |
| --- | --- |
| | Minimum needed solder mask clearance arround test point pads (.test_point Attribute) |

Inner Signal Rules


| | |
| --- | --- |
| | Minimum spacing between copper areas of same or different nets on inner layers (used if no copper foil rule can be applied) |

| | |
| --- | --- |
| | Minimum copper trace width on inner layers (used if no copper foil rule can be applied) |

| | |
| --- | --- |
| | Minimum spacing between copper areas and the PCB outline (-1 = deactivated) |

| | |
| --- | --- |
| | Minimum angle in copper areas on inner layers |

Solder Mask Rules


| | |
| --- | --- |
| | Minimum distance from the solder mask opening to surrounding copper |

| | |
| --- | --- |
| | Minimum spacing between solder mask clearances (=smallest solder resist fillet) |

| | |
| --- | --- |
| | Minimum width of solder mask clearances |

| | |
| --- | --- |
| | Minimum angle in solder mask clearances |

Silkscreen Rules


| | |
| --- | --- |
| | Minimum distance to any solder mask opening |

| | |
| --- | --- |
| | Minimum distance to any component |

| | |
| --- | --- |
| | Check only text primitives (.nomenclature attribute) for a minimum distance to components, or all primitives |

| | |
| --- | --- |
| | Minimum spacing between silkscreen printings |

| | |
| --- | --- |
| | Minimum size of silkscreen primitives |

| | |
| --- | --- |
| | Minimum spacing between silkscreen printings and the PCB outline (-1 = deactivated) |

| | |
| --- | --- |
| | Minimum angle in silk screen printing |

VIA Rules


| | |
| --- | --- |
| | Minimum needed solder mask clearance for plated through holes (.drill=via) |

| | |
| --- | --- |
| | Minimum needed solder mask clearance for plated through hole copper pads (.drill=via) |

| | |
| --- | --- |
| | If active, mask clearances which are smaller than the VIA-Pad are not reported |

| | |
| --- | --- |
| | If active, missing solder mask openings for VIA drills will not be reported |

| | |
| --- | --- |
| | If active, missing solder mask openings for VIA drills will not be reported |

| | |
| --- | --- |
| | Minimum annular ring for the VIA on outer signal layers |

| | |
| --- | --- |
| | Minimum annular ring for the VIA on inner signal layers |

| | |
| --- | --- |
| | If active, missing copper pads on inner signal layers will not be reported |

| | |
| --- | --- |
| | Minimum distance to surrounding copper on inner layers, if missing pads are accepted |

| | |
| --- | --- |
| | Minimum diameter of plated through holes (.drill=via) |

| | |
| --- | --- |
| | Minimum Distance to any other Drill |

PTH / THT Rules


| | |
| --- | --- |
| | Minimum needed solder mask clearance for through hole technology drills (.drill=plated) |

| | |
| --- | --- |
| | Minimum needed solder mask clearance for through hole technology copper pads (.drill=plated) |

| | |
| --- | --- |
| | Minimum annular ring for the through hole technology drills on outer signal layers (.drill=plated) |

| | |
| --- | --- |
| | Minimum annular ring for the through hole technology drills on inner signal layers (.drill=plated) |

| | |
| --- | --- |
| | If active, missing copper pads on inner signal layers will not be reported |

| | |
| --- | --- |
| | Minimum distance to surrounding copper on inner layers, if missing pads are accepted |

| | |
| --- | --- |
| | If active, all THT copper pads are reported, if they are located completely inside a copper area (no thermal reliefs) |

| | |
| --- | --- |
| | Minimum diameter of through hole technology drills (.drill=plated) |

| | |
| --- | --- |
| | Minimum Distance to any other Drill |

NPTH Rules


| | |
| --- | --- |
| | Minimum needed solder mask clearance for unplated through holes (.drill=non_plated) |

| | |
| --- | --- |
| | Minimum distance to surrounding copper on outer signal layers |

| | |
| --- | --- |
| | Minimum distance to surrounding copper on inner signal layers |

| | |
| --- | --- |
| | Minimum diameter of unplated through holes (.drill=non_plated) |

| | |
| --- | --- |
| | Minimum Distance to any other Drill |

MicroVia Rules


| | |
| --- | --- |
| | Minimum needed solder mask clearance for laser drills |

| | |
| --- | --- |
| | If active, missing solder mask openings for laser drills will not be reported |

| | |
| --- | --- |
| | Minimum annular ring for the laser drill on all affected signal layers |

| | |
| --- | --- |
| | Minimum diameter of laser drills |

| | |
| --- | --- |
| | Minimum Distance to any other Drill |

Buried Drill Rules


| | |
| --- | --- |
| | Minimum annular ring for the drill on outer signal layers |

| | |
| --- | --- |
| | Minimum annular ring for the drill on inner signal layers |

| | |
| --- | --- |
| | If active, missing copper pads on inner signal layers will not be reported |

| | |
| --- | --- |
| | Minimum distance to surrounding copper on inner layers, if missing pads are accepted |

| | |
| --- | --- |
| | Minimum diameter of plated through holes |

| | |
| --- | --- |
| | Minimum distance to any other Drill |

Buried Drill Rules


| | |
| --- | --- |
| | Minimum annular ring for the drill on outer signal layers |

| | |
| --- | --- |
| | Minimum annular ring for the drill on inner signal layers |

| | |
| --- | --- |
| | If active, missing copper pads on inner signal layers will not be reported |

| | |
| --- | --- |
| | Minimum distance to surrounding copper on inner layers, if missing pads are accepted |

| | |
| --- | --- |
| | Minimum diameter of plated through holes |

| | |
| --- | --- |
| | Minimum distance to any other Drill |

Copper Foil Rules


| | |
| --- | --- |
| | Maximum Foil thickness for this rule |

| | |
| --- | --- |
| | Minimum spacing between copper areas of same or different nets on outer layers with this foil |

| | |
| --- | --- |
| | Minimum copper trace width on outer layers with this foil |

| | |
| --- | --- |
| | Minimum spacing between copper areas of same or different nets on inner layers with this foil |

| | |
| --- | --- |
| | Minimum copper trace width on inner layers with this foil |